A Great DIVE2017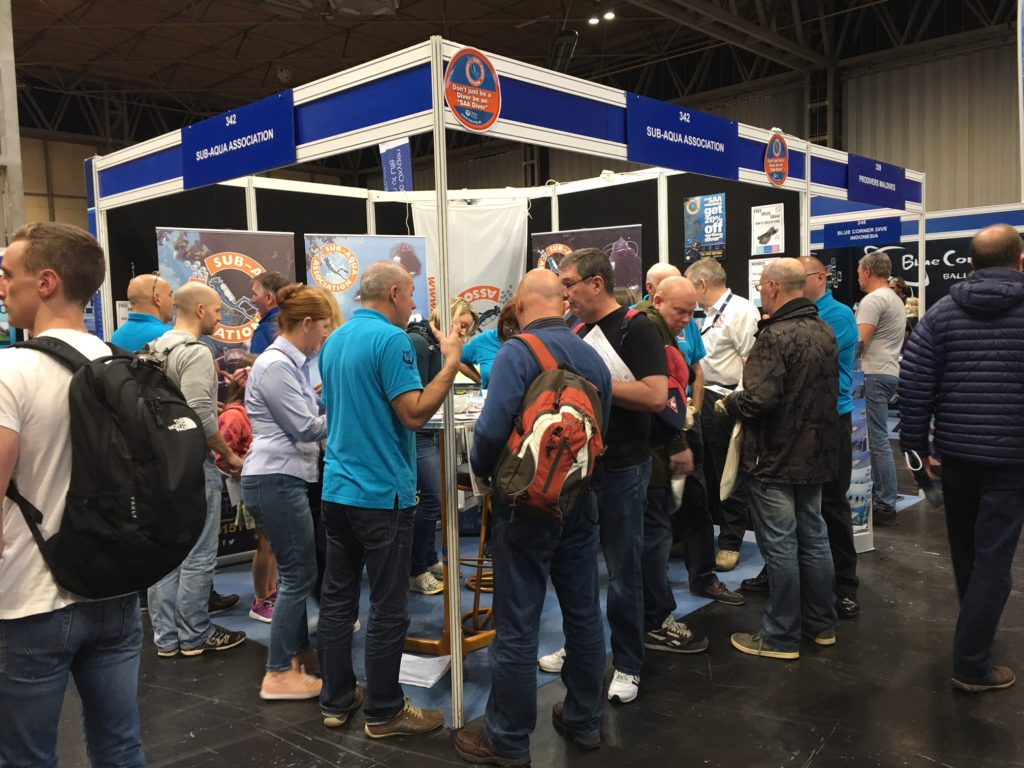 DIVE2017 was a great success during the weekend of 21st and 22nd October at the NEC. With volunteers from clubs, members of the National Executive and Regional Representatives on the stand over the two days.
We had a very successful DIVE2017 show with lots of scuba divers talking all things diving with us on the stand.
Great support
The success of the show is thanks to those who gave their time to man the stand over the two days. With an excellent turnout of Regional Representatives who were able to answer many questions from existing SAA members and members of the National Executive also in attendance, many discussions were had. We know many members appreciated the opportunity to talk through various scuba diving related topics with us.
Volunteers from clubs
We'd like to extend our special thanks to members of Ilkeston and Kimberley, Mercia and Mansfield and District Scuba Diving clubs who gave up their time over the event to work on the stand. Having such friendly SAA members representing the association was very much appreciated, as was their willingness to be involved.
Some good discussions
Sally Cartwright's talks on both Saturday and Sunday on the Diver Stage, about the recovery of the famous Bluebird from Coniston Water, was very well received and listened to by an enthralled audience.
As always, it was great to hear feedback from our members on the association and the steps forward we are taking. We're pleased to say that there were some very positive comments about the changes we've made to the website and the much anticipated member download section which is coming soon to all SAA members.
DIVE2017 also gave us the opportunity to talk about the SAA to divers of other agencies and we had many enquiries about joining local clubs and starting new clubs. We also had conversations with various suppliers to see what special deals they could offer our members – all we can say about these at the moment is 'Watch this space!'. We're sure you'll agree that it's shows like this that help us spread the message of the SAA to the dive community.
Prize draws
We ran two prize draws. Divers of all agencies and non divers entered to win a pair of F1 Hollis fins and SAA members who entered have also been entered in to a second prize draw to win an SAA fleece. Details of the winners will be advised in due course.
What are you waiting for? 
Join the Sub-Aqua Association and delve into the wonders of the deep!
ABOUT SAA

The Sub-Aqua Association (SAA) is a recognised diver training agency in the UK which meets BSI standards. The training is delivered by volunteers who give up their time for free, because they want to pass on a love of diving.
CONTACT US
Space Solutions Business Centre,
Sefton Lane, Maghull, Liverpool L31 8BX
T: 0151 2871001