Cheltenham Scubathon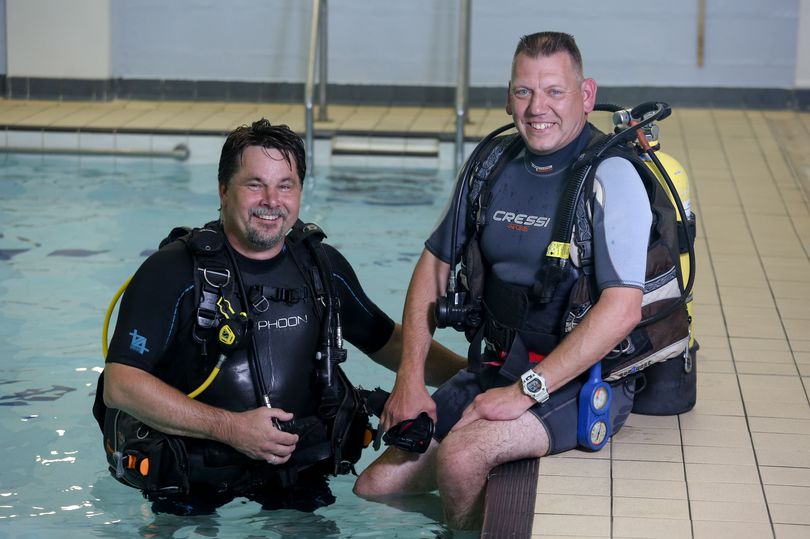 Our friends at
Cheltenham Sub-Aqua Club SAA 303
 are raising money for a charity very close to their heart.
Two members of this very active club have suffered brain injuries and are undertaking a 24 hour scubathon to raise awareness of the work the Headway charity does for survivors. James Neal and Neal Breedon will be just two of the divers participating but for them the significance is great; James suffered a subarachnoid haemorrhage 3 years ago and Neal had a major stroke and brain injury back in 2008.
Both Neal and James have found their love of diving has helped them over the years. Although on land Neal needs to use a wheelchair, as his injury left him unable to walk unaided, in the water he isn't disabled in the same way as when out of water.
The ongoing effects of a brain injury could easily be described as an invisible disability. James continues to visit the brain injury team once a month for help and advice as he still suffers from various symptoms following his injury, ""If you suffer a head or brain injury it can take a long, long time to recover and in fact you might never recover, at least not fully." James explains.
James and Neal often buddy up together on their dives and they're both very active in the club and wider diving community. During the scubathon they will be joined by other members of the Cheltenham based club, with two divers being in the water at all times. The hope is that all members will be participating at some point over the 24 hours. As you would expect, safety is going to be a key focus on the day and no diver will be exceeding their dive depth qualifications!
The 24 hour scubathon begins at midday on Saturday 16th September and will be taking place at the National Diving and Activity Centre. Please show your support for the club and the charity by popping along on the day and if possible by making a donation.
We'd like to wish the team at Cheltenham Sub-Aqua Club all the best and hope you smash that target!
Safe diving!
Support a great cause
The club will be raising money for Headway, a charity which works hard to improve life after brain injury. The hope is that over £2,000 will be raised for this great cause. If you'd like to donate please visit https://mydonate.bt.com/teams/csac24. To learn more about the amazing work of Headway, visit https://www.headway.org.uk.
What are you waiting for? 
Join the Sub-Aqua Association and delve into the wonders of the deep!
ABOUT SAA

The Sub-Aqua Association (SAA) is a recognised diver training agency in the UK which meets BSI standards. The training is delivered by volunteers who give up their time for free, because they want to pass on a love of diving.
CONTACT US
Space Solutions Business Centre,
Sefton Lane, Maghull, Liverpool L31 8BX
T: 0151 2871001