SAA DIVER GRADES
Providing you with both the theoretical knowledge and practical experience to take you all the way from a trainee diver to the highest possible diving qualification.
With the Sub Aqua Association (SAA) new scuba divers are able to develop at their own pace. This usually begins with a try dive when you're introduced to various pieces of kit and experience the sensation of breathing underwater for the first time. These try dive sessions are short, introductory sessions so interested new divers can get a feel for the sport.
Try dives can be arranged with many SAA clubs and there's usually a small charge, off under £10, to cover costs. Some clubs are able to offer try dives for free so please contact your local club.
After a try dive you may well already have the diving bug! If this is the case then the first stage of learning and developing with the SAA is the Elementary Diver grade. This introductory course involves theory and pool sessions as well as open water sessions, all delivered by qualified SAA Instructors, and forms the foundation of safe and knowledgeable scuba diving. A qualified Elementary Diver will be able to dive to a maximum depth of 10 metres.
The second grade of training with the SAA is that of Open Water Diver. It is at this stage that the skills learned during Elementary Diver are built upon with additional classroom, pool and open water sessions. An Open Water Diver will develop their technical understanding and practical experience, diving to depths up to 20 metres, under the supervision of Dive Leader or above.
As an SAA diver you can continue to develop your skills within the club environment. Many divers feel that it is when you reach Club Diver level that you begin to benefit from the social side of the sport. Club Divers are able to dive to depths up to 35 metres with fellow divers certified to Club Diver level or higher. As a Club Diver you're gaining confidence in the water, have developed additional skills and will be an aware diver, both before, during and after dives.
The fourth grade with the SAA is that of Dive Leader. A Dive Leader has proven experience of leading divers underwater and has developed their practical and theoretical knowledge further. Upon successful completion of the Dive Leader grade, the diver is qualified to dive to a maximum depth of 50 metres and is able to accompany an Open Water Diver on dives.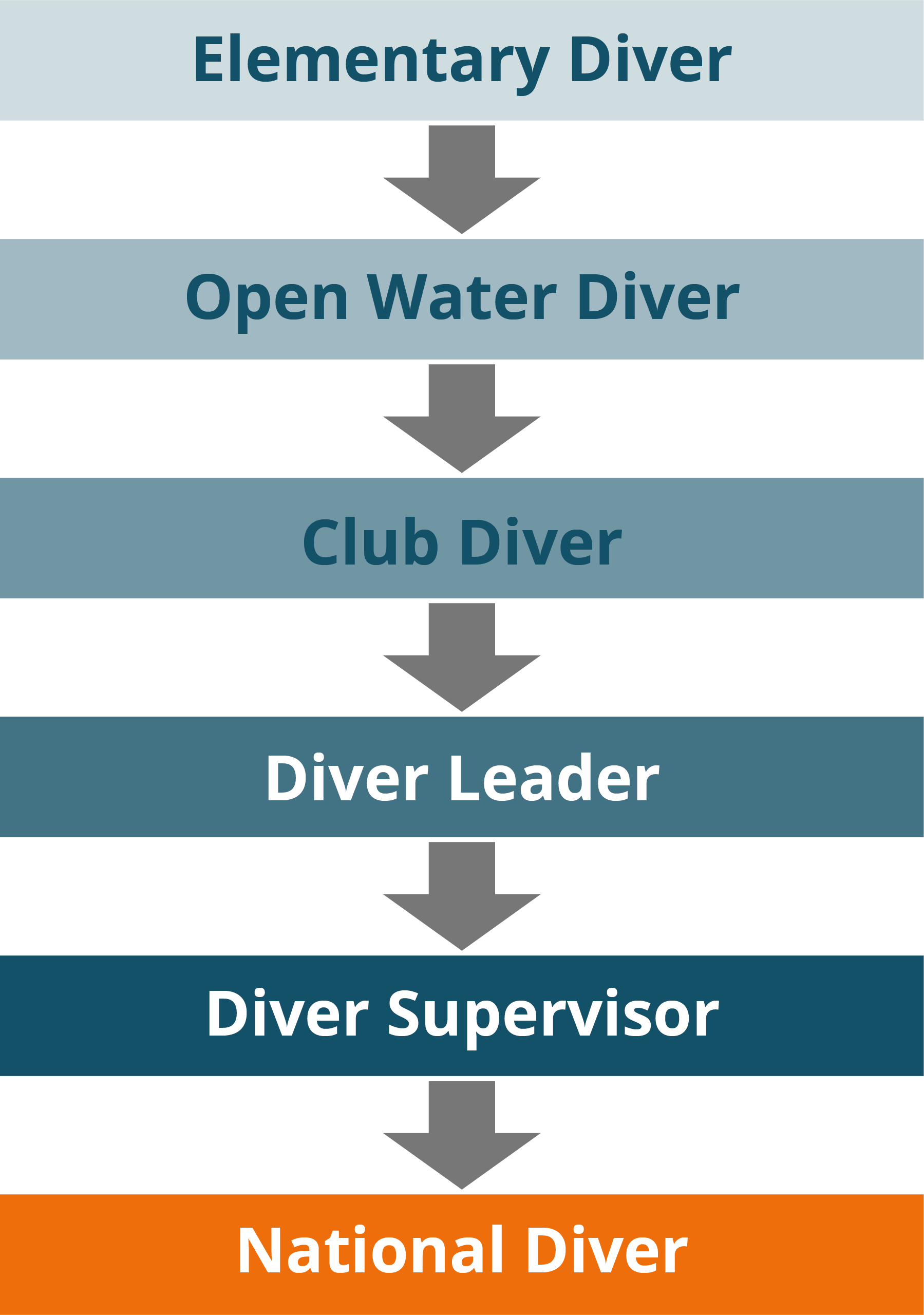 | SAA | SCOTSAC | BSAC | PADI | CMAS |
| --- | --- | --- | --- | --- |
| Elementary Diver | | | Basic Scuba | |
| Open Water Diver | | Ocean Diver | Open Water / Advanced OWD | 1 star |
| Club Diver* | Sport Diver* (SD) | Sport Diver* | Rescue Diver | 2 star |
| Dive Leader | SD with DL endorsement | Dive Leader | Dive Master | 2 star |
| Dive Supervisor | Master Diver | Advanced Diver and above | | 3 star |
* equates to CMAS 1* until 10 additional qualifying dives done.
This guide gives the highest permitted cross-over level. Each Club Diving Oficer reserves the right to assess each application on experience as well as qualifications held and my cross qualifications over at a lower level.
Nothing in this guide alters the policy that Diving Officers may not award certification higher than that held by them.
Grades above SAA Dive Supervisor may only be awarded by the National Diving Officer.
What are you waiting for? 
Join the Sub-Aqua Association and delve into the wonders of the deep!
ABOUT SAA

The Sub-Aqua Association (SAA) is a recognised diver training agency in the UK which meets BSI standards. The training is delivered by volunteers who give up their time for free, because they want to pass on a love of diving.
CONTACT US
Space Solutions Business Centre,
Sefton Lane, Maghull, Liverpool L31 8BX
T: 0151 2871001