Talk all things scuba with us at Dive 2017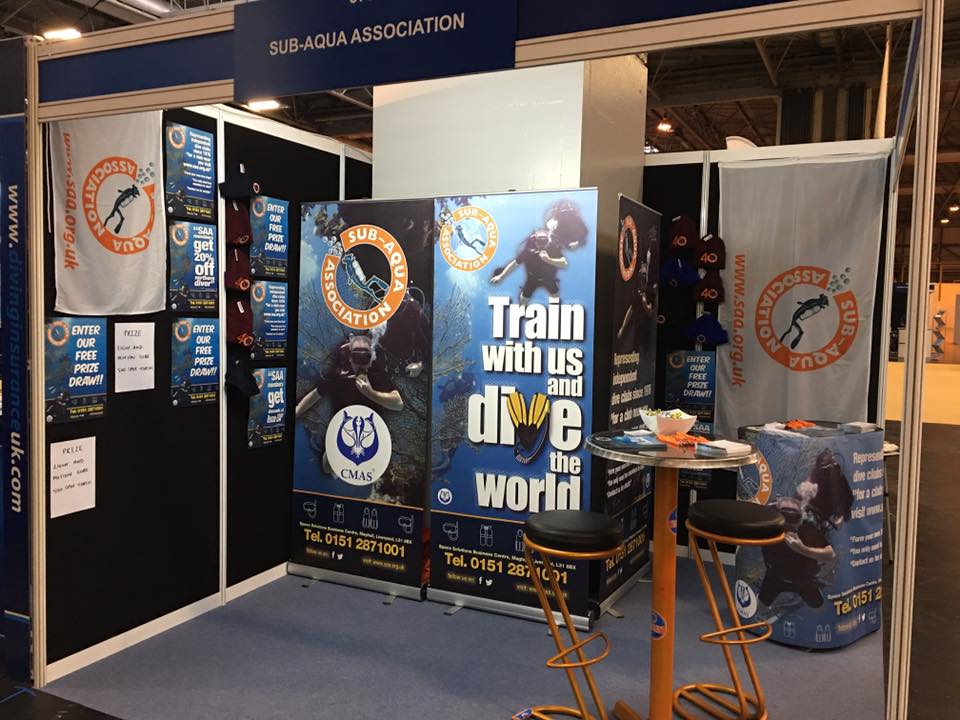 Next weekend we're attending Dive 2017 at the NEC. There'll be members of the Executive and Regional Representatives on stand 342 at various times over the two days so come and talk all things scuba with us. 
Members of the Executive
Over the course of the weekend there'll be members of the Executive on the stand to discuss issues and just catch up with members. Dennis Tammadge (Chair) will be at the show both days, although he won't be on the stand all the time; if you would like to touch base with him pop over to the stand and if he's not there somebody will know where he is! Mark Berrill (Vice Chair) and John Gough (Executive) will both be attending on Saturday. Gary Asson (National Diving Officer) and John Rice (Secretary) will both be at the show on the Sunday. Irene Sartorius (Head Office) and Claire Mortimer (Marketing) will also be there on Saturday and Sunday.
If you have any pressing questions, please feel free to email the relevant contact prior to the show so you can arrange a suitable time to catch up. Alternatively, come to stand 342 and if they're not there we'll be able to find them for you! 
Regional Representatives
We're delighted to be able to confirm many Regional Representatives are able to make the show this year giving you the ideal opportunity to say 'hello' and perhaps discuss all things training. 
Frances Aldridge (Eastern) will be on the stand Saturday between 12 noon and 2pm and will be joined by Stefan Heathfield (South East) who will be there between 12 noon and 2.30pm. Also on the stand for the Saturday is Cherie Winnard (Yorkshire and Humberside) who'll be there 10 am to 12 noon. Mandy Asson (Midlands) is on the stand all day Sunday and Lee Poxon (South West) will be joining her between 2pm and 4pm. Ceri Jones (South Wales) is able to give us his time on both Saturday and Sunday; Saturday 10am to 12 noon and Sunday 12 noon to 2pm. 
Please pop over
In addition to the Regional Representatives and members of the Executive, there'll be volunteers from various clubs giving their time on the stand. Please do come and say 'hello'. It's a great opportunity to put some faces to names, discuss all things scuba and just basically have the chance to catch up with SAA members. 
What are you waiting for? 
Join the Sub-Aqua Association and delve into the wonders of the deep!
ABOUT SAA

The Sub-Aqua Association (SAA) is a recognised diver training agency in the UK which meets BSI standards. The training is delivered by volunteers who give up their time for free, because they want to pass on a love of diving.
CONTACT US
Space Solutions Business Centre,
Sefton Lane, Maghull, Liverpool L31 8BX
T: 0151 2871001